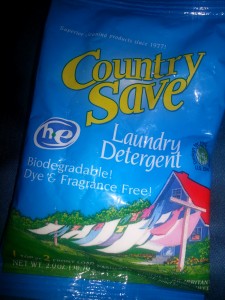 We recently decided that we are going to use cloth diapers for our baby. I kept hearing about how sensitive babies skin is. So I had to determine how to wash cloth diapers without harming my baby. It turns out that many companies make detergents specifically for babies. Babies' clothes detergent is generally expensive so I went looking for an alternative.
After a couple of internet searches, I found Country Save Detergent is inexpensive and safe for  your baby's skin. I have a timeshare and everytime that I stay there, they provide us with little packets  of this detergent to use. I never realized this soap is so good for your clothes. And it turns out, it is also good for your baby's clothes including cloth diapers. Who would have known that I have been using this detergent as long as I have my timeshare without realizing it is better than traditional laundry detergents.
The soap does not contain perfume or dyes which is ideal for people with sensitive skin and my baby would not have a rash when wearing her clothes. There are no harsh chemicals that would cause the clothes' color to fade faster.
When you have a  high efficiency (HE) front-loading washing machine, like I do, using this detergent has an additional benefit. It only requires half of the amount you normally would use for a full load. The benefit here, of course, is savings! I went a little crazy three to six month supply straight off of Amazon. You can find it here.

Next time you go out to buy detergent, consider this product. Whether it is for you or your baby's clothes, you should consider a baby safe detergent like Country Save Detergent. I found that it works great and I feel better knowing that my baby's skin and my skin will not be exposed to harmful chemicals. If you are looking for Country Save Detergent, you can find it right here from Amazon.