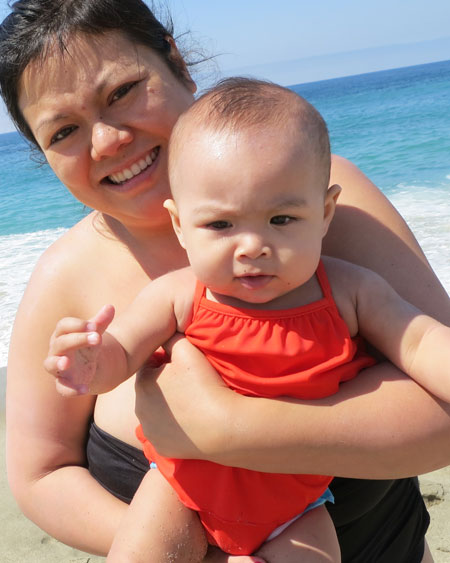 We thought it was time to take Claire to the beach. Living in Southern California requires this so we headed out to Laguna Beach. We ended up going to Aliso Creek beach down Pacific Coast Highway.
We chose Aliso Creek because it is very convenient and family friendly. The parking lot is next to the beach, directly next to it, so going from the car to the sand is just about 20 - 30 yards. Believe me, when you have a car full of baby stuff, this convenience is really appreciated.
We went with our family & friends. Grandma, aunt Ursula, Mom and I were there and our friends Ivette, Ken and their daughter Emma. We all had a blast. We'll be doing this again soon.
At first, when we let Claire step on the sand, she was a bit hesitant. She seemed to not like the feeling of the sand on her toes. But after a few minutes, the disgust and wtf expressions from her face were replaced by smiles. All day. Even though we didn't really go into the ocean, she loved walking along the water line.
Of course, she loved playing with her new beach toys and just hanging out. We lathered her up with sunscreen but she still got a slight tan. It's all good, she had a blast.
Here's are two videos and some photos:
And the pictures: